RANGE IG Bharti Arora chooses Bhaktimarg, reaches office in Bhagwa Clothes on her retirement day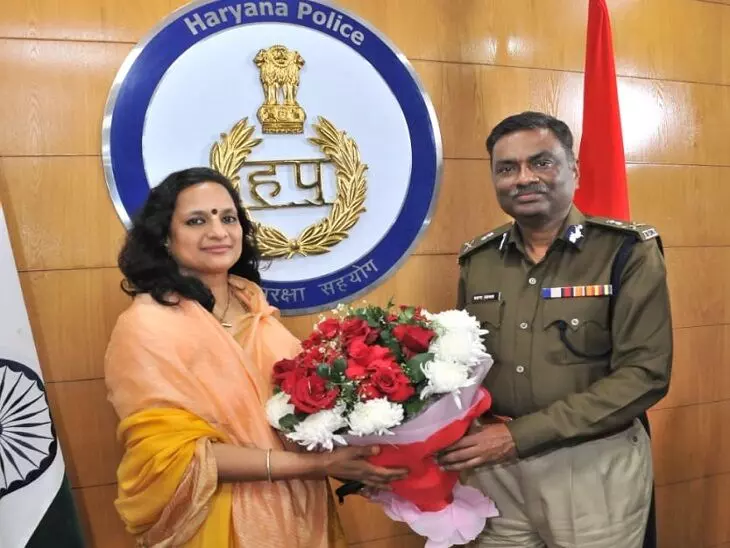 Ambala Disambar 2, 2021

Range's Inspector General cum Senior IPS Officer Bharti Arora decided to renounce worldly affairs to choose the path of Bhakti of the Bhagwan Vishnu. IPS Arora made the startling announcement as she reached the office draped in Bhagwa (saffron) attires.
Choosing the Bhaktimarg in Vrindavan, IPS Arora said the advent of "Hari" began after she came to Haryana. A seer led her to the big revelation.

She recited the couplets of many seers like Kabir Das while announcing that she would leave for Vrindavan on December 1. When asked about her ten years in service and promotion to the rank of DGP, IPS Arora said we shouldn't mistake the real pleasure with chasing after some worthless thing while reciting a couplet of Guru Nanak.
IPS Arora also that they have arrested 550 people, who were involved in illegal immigration and snatching people's life and money and also recovered the money. State's Chief Minister and Home Minister had made her head of SIT to curb the cases of fraud by illegal immigration agency operators.
IPS Bharti apprehended and sent many such tricksters to jail while her tenure in Ambala. Furthermore, she also recovered the money from fraudsters to help the victims families, who had lost everything and had to serve jail time in foreign nations. Similarly, She also carried out an effective and successful drive against cattle smugglers.
Bharti Arora is a 1998-Batch IPS Officer. She has served in many districts as SP and IG of Karnal Range in her 23 years of service. She was scheduled to retire in 2031, but she has taken a voluntary retirement scheme (VRS) 10 years earlier.

Bharti Arora is married to Haryana Cadre's IPS Officer Vikas Arora, who is presently Police Commissioner at Faridabad. Bharti Arora has also been Principal at Rai Sports School.