Chhattisgarh CM Baghel writes to Prime Minister, requests timely supply of Jute Gunny Bags to State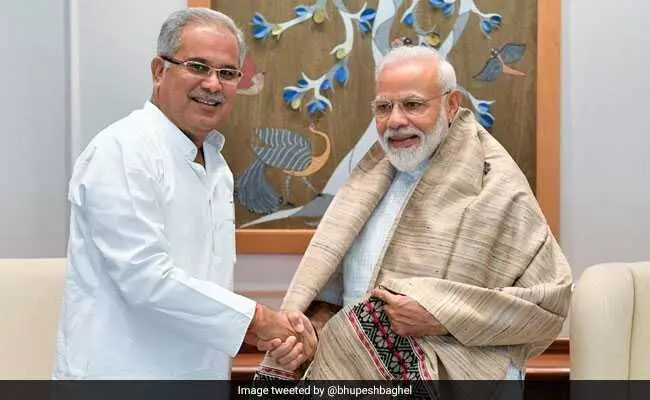 NPG.NEWS
Raipur, 23 November 2021. Chhattisgarh Chief Minister Bhupesh Baghel wrote a letter to Prime Minister Narendra Modi, requesting for timely supplying of new jute gunny bags through according to a plan issued by Food Department, Government of India on November 12, 2021.

In the letter, CM Baghel said, Chhattisgarh has been permitted to procure 2.14 lakh new jute gunny bags through Jute Commissioner Kolkata according to the plan. Of the approved quantity, only 86,856 gunny bags have been received to date, which is way less than the expected quantity. The state needs 5.25 lakh gunny bags for paddy procurement. Delay in the supply of needed numbers of gunny bags could spiral into a law & order situation.
CM Baghel further said paddy procurement for Kharif market year-2021 on centrally approved minimum support price (MSP) in Chhattisgarh is expected to commence from December 1, 2021, for which necessary preparations are going on.
Estimated 105 lakh ton paddy procurement is expected in 2021-22 Kharif procurement year. It will need 5.25 lakh jute gunny bags, out of which 2.14 bags have to be purchased through Jute Commissioner Kolkata. The plan lays out a schedule for the supply of 0.19 lakh bags in August, 0.32 lakh in September, 0.72 lakh in October, 0.15 lakh in November and 0.76 lakh jute bags.
Baghel also said Chhattisgarh State Cooperative Society Marketing Association Headquarters, Nava Raipur had released intent for procurement of 2.14 lakh jute gunny bags, but only 86,856 bags have been supplied.
Attempts are being made at the state level to supply all the jute bags through Jute Commissioner. However, despite the best efforts by f the state, there is no satisfactory increase in jute bag supply.
Baghel also told the Prime Minister that at least 10000 gunny bags were required for paddy procurement at MSP last year. So, the condition in the state could get worse, if Kolkata Commissioner fails to meet the targeted supply on schedule.
CM Baghel also mentioned that the Government of India has permitted for procurement of 61.65 tons of rice under the central pool in the 2021-22 Kharif marketing year. The state has to procure 45.65 lakh tons of rice in addition to the 16 lakh tons of the central pool that has to be deposited in the Food Corporation of India, which will need required gunny bags.
So keeping the mentioned circumstances in view, Food Department, Government of India has been requested to ensure timely supply of gunny bags.